Save Pizza Planet is an interactive advertising project designed for the promotion of new restaurant brand Pizza Planet. This is a game that uses interactive narrative methods to tell and promote the brand story of Pizza Planet. Players need to drive a spacecraft to collect certain food in this game. It was initially finished by June 2016. And it was specially revised and translated for my portfolio. In this project, I played the role of graphic & interaction designer.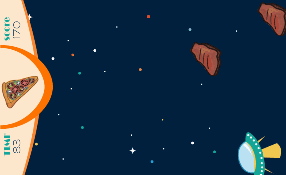 Pizza Planet is a new restaurant brand established in 2015. This brand lacks promotion. So they hope to market their food in an attractive way.
Its main customers are young college students between 18-25.
The features of Pizza Planet can be concluded as follows:
Design & Marketing Insights
1. Present the brand story in an interactive way
Save Pizza Planet tells a story about a planet all made of food. And the food is transported to the earth for people to eat. However, this story is not well-known to the public. So I need to figure out a way to promote it among young people. Since young people like to play games on mobile phone, I finally decide to make an interactive game.
The story is revised into a new version. Pizza Planet is disturbed by a storm. All of the food was blown into the space. The player needs to collect them and send them to the earth.
2. Social network communication
The game is specially designed for Chinese social network, Wechat. As the format of a native ad, people won't resist it but play it on their own initiative. After playing the game, people can share it with their social network. And your score will also display when you share it. This will attract your friends to compete against you. By the virus communication of social network, more and more people will see this ad.
3. Lead to download official app of Pizza Planet
Not only has this game promoted the brand story of Pizza Planet, it would also lead players to open the official link to download the app of Pizza Planet. This can bring direct outgrowth to the restaurant.
4. Cartoon Style
Since our targeted customers and players are mainly from college students, I choose the cartoon style to create the elements in this game. And the food I choose to display in this game is based on the VIP policy of the restaurant.
Scan this QR code to play the game on your cellphone.
Or you can directly play it on PC by clicking here.
Note: I'm sorry that the size of this game is particularly designed for viewing in Wechat on cellphone. If you open it in other browsers or on PC, the size might not fit perfectly. Then you are advised to scroll to view them all.
Technology assistance: ih5.cn